New Kensington Cocktail Bar & Restaurant
By Leo Owen (06 Apr 10)
Tags: new bar restaurant coquine earls court kensington launch party jerry hall old brompton road bolton gardens cocktail canapes music whiskey open new bar restaurant coquine earls court kensington launch party jerry hall old brompton road bolton gardens cocktail canapes music whiskey open new bar restaurant coquine earls court kensington launch party jerry hall old brompton road bolton gardens cocktail canapes music whiskey open new bar restaurant coquine earls court kensington launch party jerry ha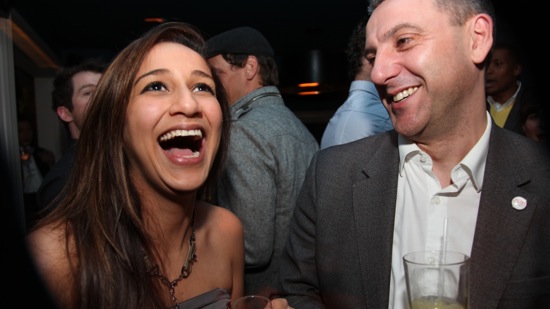 Check out some more info about
Coquine
Bar & Restaurant in Kensington
Google translator tells me Coquine means "hussy". Knowing the location of Coquine and its meaning gives conflicting images of the ideal attire for attending this bar opening. Coming straight from work just increases the difficulty of making a swift outfit selection. Eventually, happy with my choice, I leave the house but within the hour notice a nasty trail of stains caused by my breakfast. Clearly, today won't be a smooth-runner.
In the excitement of meeting and walking with a friend I haven't seen for a decade, we miss our destination. Forty-five minutes later after repeatedly traipsing up and down Old Brompton Road in persistent rain, marvelling at the numbers on the buildings inexplicably ascending to then suddenly descend by a hundred, we begin to ask passers-by and taxi-drivers for directions, but they too are baffled and clueless. We finally cave in and hail a cab, hoping it to be our lucky ride. As a yet-to-open cocktail bar and restaurant, Coquine is not part of our driver's 'knowledge' but he informs us that Old Brompton Road rather confusingly continues on after Bolton Gardens, revealing how frustratingly close we had been to our destination.
Coquine finally found, we're ushered in by a group of bouncers and "hostesses", sheltering under awning, and clamber towards the bar, having most definitely earned a drink.
Upstairs is airy and bright with modern chic décor comprised of mirrors, tiles and glass, while downstairs is darker with teal walls and a Renaissance theme. Intimate booths are cleverly tucked away, bordered by imitation picture frames with painted Renaissance backdrops, allowing the trendy clientele to step right into the paintings and become part of another era.
Struggling through the crowds we find a seat upstairs. Sitting around a glass table subtly lit by the ever-changing brightness of a chandelier comprised of beheaded cut-glass whiskey decanters, we ravenously consume our first cocktails. Initially feeling a little out of place among the stylishly dressed ladies and suited entrepreneurial business types, we forget how uncool we feel after a few more cocktails and chat to a suitably vague duo who "do stuff" for a living.
Several hours later and Coquine's soundtrack has moved from its initial fusion of beats, to a diverse set-list that makes us feel more at home. After several of the house special cocktails, affectionately called "the red one" and "the yellow one", we realise we are not so different from everyone else - hungrily and rather frantically grabbing at cheese, avocado and plum canapés; fish finger fajitas; prawn and avocado bruschettas and miniature burgers whenever they pass by.
Guzzling a final delicious Ginger Bread cocktail, we exchange details with our new friends, are invited to a "Levis party" the following night, and then wave goodbye to this dizzying, incredibly chic world before braving the less glamorous outdoors.
Recent
Featured Articles Articles