New Cocktails For Award Winning Bar
By Leo Owen (05 May 10)
Tags: portobello star best bar cocktail london notting hill class award winning champion new menu launch guinness time out portobello star best bar cocktail london notting hill class award winning champion new menu launch guinness time out portobello star best bar cocktail london notting hill class award winning champion new menu launch guinness time out portobello star best bar cocktail london notting hill class award winning champion new menu launch guinness time out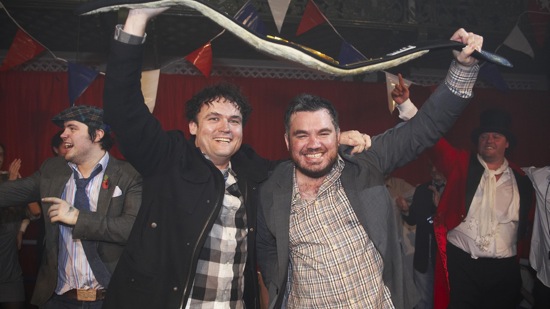 A life doomed to wander the streets squinting at road signs and largely unhelpful printed maps had a pleasantly surprising deviation when I located
Portobello Star
with relative ease. Launching its new cocktail menu, the cosmopolitan
Portobello Star's
fully opened doors were like arms beckoning us in to a foreign retreat.
Inside and outside are merely extensions of each other, the small and intimate Portobello Star welcomes anyone wanting refreshment and the chance to lose themself in its laid-back atmosphere. The menu claims the site has been "frequented by Royals, scallywags, urchins, beggars, scarlet ladies, drunkards, intellectuals…" and this doesn't surprise. Its décor is simple but tasteful – black and glistening silver fixtures and fittings, comfortable padded black bar stools, low-level seating areas with mustard coloured poufs and reclaimed wooden topped tables and bar area. Unlike many trendy bars, the award-winning Portobello Star is clean, but not so clean you're looking for the surgical gowns and soap.
Staff offer a warm friendly reception, keen to explain cocktail ingredients and origins, and they are clearly proud of this little gem. The menu is diverse with imaginative mix-ups and tailored cocktails like P.S. We Love You that allow customers to handpick ingredients. Slightly dubious, we begin by sampling the light and refreshing new egg white cocktails. We soon find the drinks are freely flowing and seem to improve with each choice, although our ability to pick matching-sized cocktails doesn't. I am pleasantly surprised by my Guinness Punch, especially as I'm not a huge fan of beer or this particular brand. I am amazed that the combination of Guinness with rum, milk, vanilla, spice, cocoa and cinnamon is so tasty.
Full of milky cocktail goodness with courage appropriately "plucked", we order our final drinks for the night – the two most potent that worryingly carry warnings on the menu. The Katie Holmes look-alike who graciously serves us throughout the night brings them over and for once we have got it right – both glasses are huge and matching in size.
Portobello Star is currently the 'Champion of Champions' Best Bar in the UK and Gregor De Gruyther's Good Time Bar, both awarded at industry Oscars, the CLASS Awards, and was one of six finalists for the Time Out Best Bar Award 2009. The first edition Portobello Star menu was a finalist at the annual 'Tales of the Cocktail' competition in New Orleans thus ranking as one of the top ten in the world.
The new menu was created by group drink's director, Jake Burger, pictured above with Owner, Ged Feltham, collecting the Champion of Champion award.
Recent
Promotions Articles