Best New Restaurants, Bars, Pubs & Clubs in London
By Christian Rose-Day (01 Feb 17)
Tags: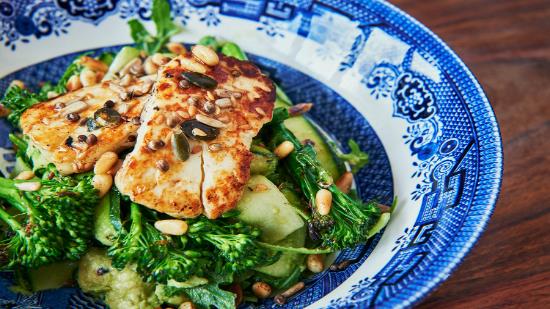 The London drinking and dining scene is an ever changing beast, with old restaurants closing and new restaurants opening up in there place almost every day. Keeping pace with the newly launches for dining in London is not an easy task for Londoners. Hence the below list of the best new restaurants, bars, pubs and clubs in London is comprehensive and clickable.
This new restaurant guide is updated almost daily so you can keep coming back for more inspiration on where to eat and drink, where to book for dinner, where to take someone on a romantic date, and where to take clients and colleagues if you want to impress them with your finger-on-the-pulse knowledge of London's electric dining and drinking scene.
Best New Restaurants in London
Surrender inhibitions and allow the talented mixologists at new Soho hangout, Six Storeys, to create unique cocktails, titillate the taste buds with delicious, home cooked, English food.
New fusion sushi restaurant, Temakinho, combines Japanese and Brazilian flavours. Their flagship restaurant in Milan is a much-loved restaurant in Italy.
An Indian small plate restaurant with access to a a speakeasy cocktail bar and cosy outside terrace in Fitzrovia? Say hello to Lokhandwala.
Bringing their technology-inspired signature theme and street food bar menu to North London, Inamo Camden new setting (with al fresco garden and a roof terrace) should make a great date night venue.
Club Mexicana, a pop-up dedicated to Mexican vegan street food, has begun a year-long residency at Pamela following stints at KERB and Street Feast.
Dhruv Mittal, formerly of Restaurant Sat Bains, Hibiscus, and The Fat Duck, launched the new Dum Biriyani House with its Indian pop-art and old-school R&B, it's not your typical Indian restaurant.
Find yourself in King's Cross with an insatiable hunger for beef? Check out the new Bar + Block.
Organising a night out in Camden town with your Besties? New Pan-Asian cocktail bar and restaurant, Miusan, should be top of your list.
The Holy Birds, the City's first poultry dining experience, is brought to London by the Calabrese Brothers, they of Hoxton Pony fame.
From the man behind one of London's most iconic restaurants, The Cinnamon Club, Vivek Singh announces the opening of his latest restaurant, Cinnamon Bazaar in Covent Garden.
Permanently docked in Paddington, London Shell Co. offers static lunches and cruising dinners as part of this remarkable dining experience, in which LSC's aim is to celebrate seasonal produce.
The jewel in the crown of the award-winning collection of ultra-luxury Leela Palaces, Hotels and Resorts across India, Jamavar's cuisine takes inspiration from across its majestic sub-continent.
The Appalachian Mountains come to London with the meat-lovin', moonshine shakes of new restaurant, Boondocks near Old Street.
Flavour Garden is a new all-day eatery that has opened near Fenchurch Street where everything on offer is organic, ethically sourced and sustainable.
Since opening, Native in Covent Garden has been building a reputation as one of London's leading game and fresh produce restaurants, winning rave reviews from national restaurant critics to die hard foodies.
Drawing on his experiences working at Claridge's, The Square, and Noma, Ben Marks has devised a menu of seasonal dishes that reveals his modern interpretation of classic European ingredients at new restaurant, Perilla.
On Coldharbour Lane in Brixton, Fancy Funkin Chicken is a chicken shop and bar brought to you by a dynamic trio of young hospitality insiders, Nathan Pattie (Co-founder of PIX), Rollo Weeks (formerly Sketch) and Lars Larson (formerly The Cuckoo Club).
Qvintessenza's Venetian founder, Alessandro Selazone, spent a year travelling the length and breadth of Italy to find the right produce, Prosecco, wine and craft beer to serve in the new restaurant and tasting room. So honour such dedication!
Best New Bars, Pubs and Clubs in London
Keira Knightley had her 21st birthday party there; P Diddy loved the venue so much he had three parties there and brought Sienna Miller along with him. Jay Z celebrated his birthday there and Beyonce and her sister Solange partied in the VIP room. Welcome back, London nightclub Paper.
Bobby Fitzpatrick serves up a selection of rum fuelled cocktails and hearty comfort food. The 70s inspired kitchen, lounge and living room are unapologetically retro.
Check out Ritorno, a brand new aperitivo bar on the King's Road, bringing the Milan style of socialising to Chelsea.
For an all-encompassing fun night out in London, check out the revamped Queens Skate and Bowl in West London.
if you love music, then new bar, Spiritland, is your holy land.
Martello Hall in Hackney is a cocktail bar and banquet hall of old reclaimed decadence, offering coffee and hot-desking by day for the wage earners, cocktails and pizza by night for the revellers and an Italian feast for those seeking weekend brunch.
Looking for a new place to go clubbing in London? Then check out the brand new club, Omeara near Borough Market.
Recent
New venues Articles