Best New Restaurants, Bars, Pubs & Clubs in London
By Christian Rose-Day (07 Dec 16)
Tags: new bars in london,new restaurants in london,new pubs in london,new clubs in london,best new bars,best new clubs,best new pubs,best new restaurants,best restaurants in london,best bars in london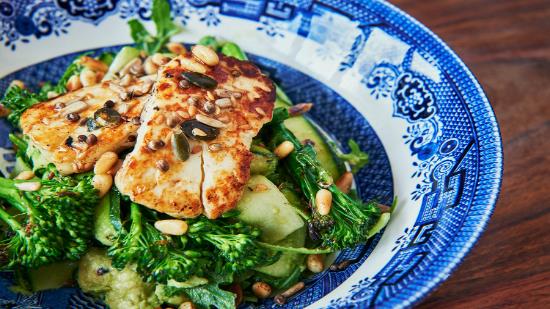 The London drinking and dining scene is an ever changing beast, with old restaurants closing and new restaurants opening up in there place almost every day. Keeping pace with the newly launches for dining in London is not an easy task for Londoners. Hence the below list of the best new restaurants, bars, pubs and clubs in London is comprehensive and clickable.
This new restaurant guide is updated almost daily so you can keep coming back for more inspiration on where to eat and drink, where to book for dinner, where to take someone on a romantic date, and where to take clients and colleagues if you want to impress them with your finger-on-the-pulse knowledge of London's electric dining and drinking scene.
Best New Restaurants in London
Find yourself in King's Cross with an insatiable hunger for beef? Check out the new Bar + Block.
Organising a night out in Camden town with your Besties? New Pan-Asian cocktail bar and restaurant, Miusan, should be top of your list.
The Holy Birds, the City's first poultry dining experience, is brought to London by the Calabrese Brothers, they of Hoxton Pony fame.
From the man behind one of London's most iconic restaurants, The Cinnamon Club, Vivek Singh announces the opening of his latest restaurant, Cinnamon Bazaar in Covent Garden.
Permanently docked in Paddington, London Shell Co. offers static lunches and cruising dinners as part of this remarkable dining experience, in which LSC's aim is to celebrate seasonal produce.
The jewel in the crown of the award-winning collection of ultra-luxury Leela Palaces, Hotels and Resorts across India, Jamavar's cuisine takes inspiration from across its majestic sub-continent.
The Appalachian Mountains come to London with the meat-lovin', moonshine shakes of new restaurant, Boondocks near Old Street.
Flavour Garden is a new all-day eatery that has opened near Fenchurch Street where everything on offer is organic, ethically sourced and sustainable.
Since opening, Native in Covent Garden has been building a reputation as one of London's leading game and fresh produce restaurants, winning rave reviews from national restaurant critics to die hard foodies.
Drawing on his experiences working at Claridge's, The Square, and Noma, Ben Marks has devised a menu of seasonal dishes that reveals his modern interpretation of classic European ingredients at new restaurant, Perilla.
On Coldharbour Lane in Brixton, Fancy Funkin Chicken is a chicken shop and bar brought to you by a dynamic trio of young hospitality insiders, Nathan Pattie (Co-founder of PIX), Rollo Weeks (formerly Sketch) and Lars Larson (formerly The Cuckoo Club).
Qvintessenza's Venetian founder, Alessandro Selazone, spent a year travelling the length and breadth of Italy to find the right produce, Prosecco, wine and craft beer to serve in the new restaurant and tasting room. So honour such dedication!
The Duck Truck Shoreditch Box Park is a small but perfectly formed restaurant that has graduated from its airstream truck or festival days.
For a taste of Nordic design and fine dining over the winter period, head to St. James for the Aquavit restaurant.
Delight in light dishes such as hand-dived scallops from the Channel Islands or sweet Jersey lobster ravioli in a crab and lemongrass bisque paired with exquisite English sparkling wines at new Mayfair restaurant, Ormer by Michelin star chef, Shaun Rankin.
Check out Sakagura, the first joint venture between the Japan Centre Group; sake Royal Warrant holder, Gekkeikan; Japanese plum wine brand, Choya; the Toridoll Corporation; and a two-Michelin star Japanese restaurant.
Heading to the London Eye, Royal Festival Hall, or the London Aquarium and fancy some modern British cuisine to bookend your adventures, then check out the new Westminster Kitchen.
With a new menu devised by Head Chef John Edwards (previously of Le Caprice and Soho House), The Frontline Club in Paddington is back up and running again.
From the team that brought you Smokehouse, The Pig and Butcher, and The Princess of Shoreditch comes Little Smoke, specialising in working with whole native and rare breed animals, sourced from small independent farmers.
At the helm of Counter Kitchen is Chef Matt Edwards (ex-Quo Vadis, Fino, Hix), who along with co-founder Benjamin Meyer and William Heath, is bringing mindful eating to Clerkenwell.
Going out in the West End to see a show? Maybe slot in some extra time for some fine Italian cuisine at new restaurant, Margot in Covent Garden.
Get your meat fix up on the hill at the new Bodean's branch in Muswell Hill.
Serving all day brunch and Caravan coffee during daylight, and loaded buns, cocktails, wine and beer by night, Brother Marcus the Garden Café in Balham provides a second home of SW-ers at all hours.
New British restaurant, Anglo near Farringdon is the place to find lesser known wine varietals and an informal dining approach.
With a name like View 94 this new restaurant won't keep you guessing about what one of its key assets. This riverside restaurant even has its own private outdoor jetty!
Best New Bars, Pubs and Clubs in London
if you love music, then new bar, Spiritland, is your holy land.
Martello Hall in Hackney is a cocktail bar and banquet hall of old reclaimed decadence, offering coffee and hot-desking by day for the wage earners, cocktails and pizza by night for the revellers and an Italian feast for those seeking weekend brunch.
Looking for a new place to go clubbing in London? Then check out the brand new club, Omeara near Borough Market.
Downstairs at the new Patty & Bun in Shoreditch you'll discover the speakeasy cocktail bar and DJ- dance tunes. Upstairs is the sustenance: those famous burgers!
At brand new hangout, Dirty Bones in Shoreditch you'll find a similar sort of New York comfort food, high-living cocktails and old school dance tunes as you would at sister bars Dirty Bones in Kensington and Soho.
Welcome to a New Orleans cocktail lounge, Shotgun BBQ, conveniently located (for us Londoners) in Soho. Wood burning smokers help to give the place an authentic American barbecue allure.
Pan-Asian cuisine, cocktails designed by mixologist heavyweight, Andy Mil, and a secret nightclub at the rear where DJs keep the weekend alive and dancing; welcome to Hyde Kensington.
The former Olympic Press and Broadcast centre in Hackney is now home to the Here East creative hub, which includes the new Mason & Company, a canalside bar where you can grab craft beers and Italian-American food.
Recent
New venues Articles