Italian Food Made With Beer
By James Baxter (24 Mar 10)
Tags: top 10 italian restaurant in london birra moretti beer food recipe bar cafe caffe caldesi class cooking ingredient london marylebone beverage cook drink master chef top 10 italian restaurant in london birra moretti beer food recipe bar cafe caffe caldesi class cooking ingredient london marylebone beverage cook drink master chef top 10 italian restaurant in london birra moretti beer food recipe bar cafe caffe caldesi class cooking ingredient london marylebone beverage cook drink master chef to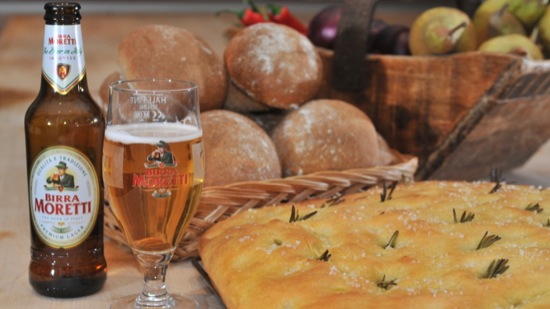 Looking for the best Italian restaurants in London?
Check out our Top 10
.
Walking through the backstreets of Marylebone on a bitterly cold Wednesday night to learn how to make a range of Italian dishes with beer is perhaps not every foodies idea of a great night out, but any thoughts of gastronomic snobbery were immediately dispelled on entering the warm and alluring surrounds of La Cucina Caldesi, the Italian Cooking School in Central London.
Owned by the revered chefs Giancarlo and Katie Caldesi, the school is adjacent to the couples much-loved Italian restaurant and coffee bar, Caffé Caldesi (They also own the rated Caldesi in Campagna restaurant in Bray). After an enthusiastic Italian welcome from Katie – Giancarlo was busy styling some dishes he had cooked earlier in preparation for some shots by a food photographer – we settled down to an 8-dish Italian cooking master-class.
The Caldesis have recently been unveiled as the new ambassadors for premium Italian beer Birra Moretti and many of the recipes they created were inspired by the beverage. (The assembled throng of journalists were naturally happy to enjoy the beer straight from the bottle too as they waited for the master-class to unfold). And unfold it did, as we began with the sumptuous Zepole di Gamberetti (fried prawn and parsley dough balls) before making our own pizza with beer-infused dough and taking in a range of mainly Neapolitan-inspired dishes. These included a slow cooked chicken in beer; a hearty yet extremely moreish sausage, pepper and beer stew and pasta with Genoese sauce. And just when we thought we couldn't eat any more, a couple of memorable deserts appeared, beginning with a date, custard and beer jelly trifle and concluding with pear and beer fritters with cinnamon dusting in a very sweet yet stunning vanilla dipping sauce (see full menu below).
As the Caldesis own chef Totore said, "pizza without beer was like dancing without music' and after tasting the evenings master-class, you could substitute pizza for virtually any other dish on the menu. So foodies everywhere, bring on the beer and get cooking Caldesi style.
The Menu
Zepole di Gamberetti
Fried Prawn and Parsley Dough Balls
Crespelle alla Birra Moretti con granchio e salsa di spinachi
Beer pancakes stuffed with crab in a spinch sauce
Spezzatino di pollo Birra Moretti
Slow cooked chicken in Birra Moretti
Stufato di salsicce, pepperoni con Birra Moretti
Sausage, pepper and Birra Moretti stew
Ragu Genovese
Pasta with Genoese sauce
Focaccia alla Birra Moretti
Beer Focaccia
Pane alla Birra Moretti e faro
Spelt and Birra Moretti bread
Pizza all Birra Moretti
Pizza with beer
Spiedini di pollo, ananas e pancetta marinati in Birra Moretti
Chicken, Pineapple and Pancetta skewers marinated in Birra Moretti
Gelatini di Birra Moretti con datteri e crema pasticcera
Date, custard and beer jelly trifle
Fritelle di Pere alla Birra Moretti con canella e salsa alla vanigla
Pear and beer fritters with cinnamon dusting
Recent
Featured Articles Articles