Feed your Mind, Feed Your Body and Feel Great in January
By Jane Venables (01 Jan 17)
Tags: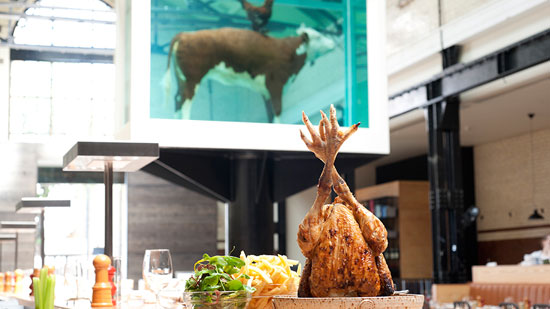 The festive fun is all over for another year and you're stuffed to the brim with turkey, mince pies and Christmas cake, not to mention the amount of booze you've knocked back over the past few weeks (okay there are some goody two shoes out there, but let's face it, most of us have over indulged as per usual!).
Whilst January may be the perfect opportunity to sign up to a shiny new membership down at the local gym and a plan to work off those extra kilos with a brisk workout let's face it, for many of us, it's just a good idea that never quite materialises.
So forget the detox diet, the gym membership and the early morning run in the dark – Fluid London has got a better idea. Why not spend the usually miserable month of January indulging yourself in London's incredible art, culture and history whilst enjoying a bite to eat at the same time (it can be a healthy bite to eat if you so wish). Feed your mind, feed your body and feel happy – that's what January should be all about!
As we all know, or should know anyway, London is filled to the brim with wonderful art galleries and museums and lucky for us, most of them are free to get in to. Which is a real bonus as that means there's probably enough for a bite to eat too. So where to head to we hear you ask?
The British Museum is always a favourite and as far as dining is concerned, the Great Court Restaurant inside the museum is a great choice. If you want to step away from the crowds for a while, why not head over to the charming Montague on the Gardens hotel just around the corner for their thoroughly indulgent Afternoon Tea at the Montague?
Both the Tate Modern and Tate Britain are well worth the visit and guarantee to brighten up a dull January day. Why not soak up the views over the Thames and across to the Tate Modern from your table at the lovely Northbank restaurant where contemporary British cuisine will certainly hit all the right spots or perhaps The Rex Whistler Restaurant at Tate Britain will satisfy your cravings for classic British cuisine. In fact, it seems that London's art galleries are a haven for wonderful eateries and the list is endless. In the east, the Whitechapel Gallery Dining Room is sure to put a smile on anyone's face whilst the National Gallery and National Portrait Gallery play host to three amazing dining rooms in The National Café, National Dining Rooms and the Portrait Restaurant. The Serpentine Sackler Gallery's amazing Magazine Restaurant is a work of art in itself and the Gallery Mess at the Saatchi Gallery features the most beautiful vaulted ceilings and incredible art displays.
Of course, London being London, you don't need to visit an art gallery or museum to be able to enjoy some amazing works of art. You can simply book a meal at one of the capital's art inspired restaurants and take in some pretty impressive artwork over a rather fine meal. Take the brilliant Tramshed over in Shoreditch for example. This fabulous Mark Hix creation not only serves some truly inspirational British cuisine but features specially commissioned works of art by renowned artists such as Tracey Emin, Damien Hirst and Gavin Turk. The same goes for its younger sibling Hixster over on Bankside. Sketch Gallery over in Mayfair has actually been taken over by artist David Shrigley currently as part of a long term programme of artist conceived restaurants and features over 200 pieces of Shrigley's work.
Christmas may be over for another year, but January doesn't have to be the depressive month many of us find it to be. Grab your coat, scarf, hat and gloves and get yourself into good old London town for a spot of art, culture and great food. You'll feel so much better for it.
Recent
Featured Articles Articles