Cantina Laredo - New Mexican restaurant in Covent Garden
By Paul Caffell (19 May 10)
Tags: new gourmet mexican restaurant covent garden cantina laredo june 2010 london best guide exceptional cuisine new gourmet mexican restaurant covent garden cantina laredo june 2010 london best guide exceptional cuisine new gourmet mexican restaurant covent garden cantina laredo june 2010 london best guide exceptional cuisine new gourmet mexican restaurant covent garden cantina laredo june 2010 london best guide exceptional cuisine new gourmet mexican restaurant covent garden cantina laredo june 201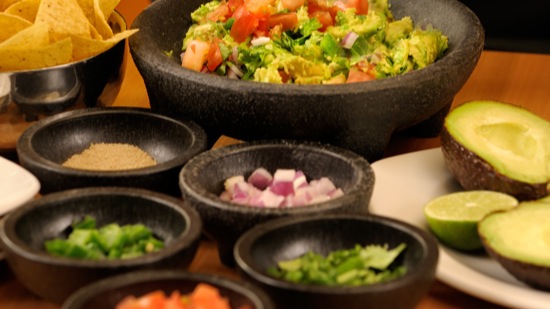 Next month: A Mexican food revolution arrives in central London IT'S MEXICAN FOOD, BUT NOT AS WE KNOW IT!
June 2010 sees the arrival of
Cantina Laredo
, an exceptional, new gourmet dining experience that promises to revolutionise the way British diners think about food from Mexico. The restaurant combines mouth-watering flavours – resulting from the use of fresh ingredients, extraordinary attention to detail and the influence of generations of talented Mexican chefs – with a relaxed, yet sophisticated environment and excellent service. Opening on 22 June 2010,
Cantina Laredo
will be one of the first restaurants in St. Martin's Courtyard, a new shopping and lifestyle destination for discerning Londoners and visitors to Covent Garden in London's West End.
Cantina Laredo
is a far cry for from the 'Tex Mex' image of Mexican restaurants; honouring the Mexican tradition of investing time and passion into sourcing, preparing and cooking fresh, wholesome food, each of the restaurant's twenty cooking sauces are made from scratch each day. This includes its spicy Mole sauce - a Mexican favourite personalised by the restaurant and made with sixteen different ingredients including dried chilli peppers, toasted nuts and 100% cocoa Mexican chocolate.
Cantina Laredo's
Roasted Tomatillo and Roasted Tomato Salsa take up to 40 minutes to produce from scratch, and the 'top shelf' guacamole is freshly prepared for guests at the table using ripe avocado, freshly chopped coriander, chilli pepper, red onion, tomatoes and a secret combination of spices combined to create the perfect flavour. Colour, aroma and flavour are essential to create the authentic Mexican experience. Dishes that do just that are the palate-freshening ceviche (a traditional dish of tiger prawns, grey mullet and bay scallops, marinated in lime juice and served with a selection of vegetables and spices), and the hearty signature dish of Camaron Poblano Asada (a classic Mexican poblano pepper filled with a delicious mixture of sautéed tiger prawns, mushrooms, onions and cheese and wrapped with a grilled skirt steak on a bed of chimichurri sauce). Guests can complete their meal with one of the delicious selection of desserts, such as a sizzling skillet of home-baked Mexican brownies or apple pie served with a unique brandy butter sauce and cinnamon ice-cream. To complement the meal, an extensive drinks list is available, with wines selected by Richard Bampfield Master of Wines to match the fiery flavours, tempting cocktails, and of course, a range of over 30 of the world's very best 100% blue agave tequilas. The
Cantina Laredo
team painstakingly sourced these and are passionate about educating their guests about the complex and rewarding world of tequila tasting. Tequila 'flights' offer guests the opportunity to sample a selection of different types, for example a popular introductory platter could consist of the plata, reposado and añejo varieties. The restaurant's signature margarita, the 'Casa Rita' includes orange liqeuor and freshly squeezed lemon and lime juices
Cantina Laredo
will host monthly 'Tequila dinners', encouraging guests to learn more about this famous spirit, which was first made almost 700 years ago and is still produced today from hand-harvested agave plants, challenging British preconceptions of tequila. Opening to the public in time for summer,
Cantina Laredo
will comfortably seat 220 customers. The restaurant has an al fresco terrace, a rarity in central London, where guests can enjoy a mojito or margarita and watch the world go by. For venue details:
>Cantina Laredo
, 10 Upper St. Martin's Lane, St. Martin's Courtyard, Covent Garden, London, WC2H
Recent
New venues Articles