2 New Italian Restaurants Aimed At London's Shoppers & Culture Vultures
By Christian Rose-Day (11 Apr 12)
Tags: new restaurant, restaurant london, italian restaurant, italian london, spaghetti house, shopping london, oxford street, soho, mayfair, kensington, top shop, liberty, nike town, apple store, pizza, pasta, dessert,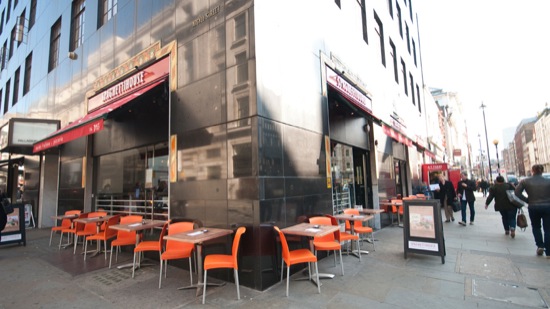 Shoppers with a penchant for fresh Italian pasta, pizza and salads, who frequent the big name brands along Oxford Street and High Street Kensington in London, will be delighted to learn that the affordable but high quality Italian cuisine of
Spaghetti House
- which has been in existence for 5 decades, is STILL owned by the same Italian family, and boasts 12 restaurants across central London - will be just around the corner thanks to two new restaurants in Soho and Kensington.
Equally, these two new restaurant openings will now provide sustenance for families with children and culture vultures who are heading for the Photographers' Gallery, the London Palladium, or Ronnie Scott's Jazz Club in Soho later in the evening, or even the Royal Albert Hall, the Natural History Museum, the Science Museum, or the Victoria & Albert Museum in Kensington.
The boutique Spaghetti House Italian restaurant on High Street Kensington, opposite Kensington Gardens and Hyde Park, is situated on a parade of popular shops that includes Urban Outfitters, H&M, TK Maxx, Monsoon and New Look so will suit families as well as shoppers hoping to escape the maddening masses of Soho, Mayfair, Fitzrovia and Marylebone.
Alternatively, for those shoppers who cant resist the lure of Nike Town, the Apple Store, Top Shop and Liberty, at the bottom of Argyll Street in Soho - where the zebra crossing guides you towards the top of Carnaby Street - is the new Spaghetti House Italian restaurant (pictured above) with floor-to-ceiling glass windows on two sides so that you can sit on banquette seating, people-watching to your heart's delight, as stone-baked pizzas skip by under your nose. This restaurant is understandably more vibrant, busy, and lively than its Kensington sister due to its hard stone and wood flooring and its proximity to the West End.
Whichever restaurant you choose to book a table at, we recommend the veal piccatine with saute potatoes, although the assaggini, antipasti, and desserts are all fantastic. There's also a new Children's Menu with healthy choices for families out and about in central london.
To make a booking at the new Spaghetti House Italian restaurant on High Street Kensington, use the calendar below.
Recent
New venues Articles