Wimbledon: It's A Game Of Tennis, Treehouses & Afternoon Tea
By Christian Rose-Day (26 Jun 12)
Tags: wimbledon tennis, wimbledon london, nadal, murray, federer, Djokovic, sharapova, game, set, match, afternoon tea, london, alfresco, tv screen, live tennis, mini picnic, river thames, tower bridge, champagne, english wine, scones, clotted cream, strawberries, ace, court,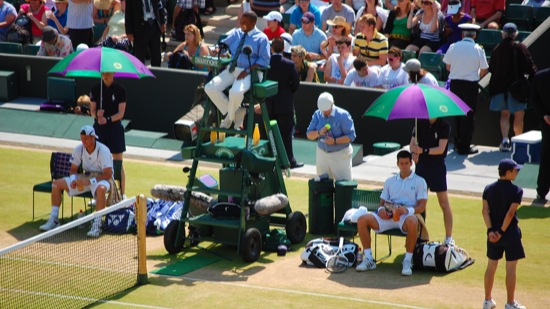 Next up in London's summer of sport is the Wimbledon fortnight and already we've seen some of the greatest players from the world of tennis fail to make it through to the second round.
As the nation ponders what kind of tennis miracle it will take for British number 1 Andy Murray to get the better of Nadal, Federer and Djokovic, many ticket holders will be getting caught amongst the strawberry-faced crowds in
Wimbledon's best bars and restaurants
(unless they're smart and book ahead, of course) as they head out for a bite to eat. If they do, we'd suggest a visit to restaurant
40 The Hill
which has a special surprise for guests who find a tennis ball strapped beneath their table: a free dessert!
For those claustrophobic tennis fans who are game for a spot of Wimbledon from the comfort of a well-cushioned chair, and within reach of a delicious meal and/or drink, let's play!
The entire
Grand Union
bar group, which seems to have a knack for setting up shop in the coolest areas of London, will be screening all the Wimbledon matches upon request at its various
Grand Union
branches. Our favourites are the
Brixton
and
Wandsworth
bars because they have a multitude of outdoor screens in enormous beer garden settings. Of course, full-on tennis fiends will want to go the extra step and reserve a tree house at
www.grandunionbars.com
to take advantage of private screens, heating, light and sound.
That's 15-Love!
Bluebird
Chelsea is showing all the live Wimbledon tennis matches from its King's Road courtyard, which comes ready with its annual astro turf, giant tennis balls, and alfresco TVs. On Sunday 8th July there's a Wimbledon Men's Final special menu (3 course for £50), plus the restaurant has joined forces with Moet & Chandon for a twist on the traditional champagne and strawberries: an exotic pineberry fruit (looks like strawberry; tastes like pineapple) with each glass of the bubbly. Best of all, though, is the Champagne Afternoon Tea for £25.50 when booking through the reservations calendar below.
src="https://secure.livebookings.com/LBDirect/Assets/Scripts/LBDirectDeploy.js">
That's 30-Love!  
The
Butler's Wharf Chop House
on the Thames, overlooking the world's biggest tennis net (Tower Bridge), has created an
English country garden with faux lawn and summer flowers
, completing the scene with a large TV screening the action from Wimbledon and old-fashioned English picnics for one, served at the table (British weather is a temperamental beast, after all). Poached salmon and roast beef sandwiches, Montgomery's cheddar & onion tarts, pork pies, English strawberries, scones and clotted cream are all
served in a quaint wicker basket
, washed down with a lovely cuppa (take our advice though, for a little extra add a glass of Nyetimber English Sparkling Wine). Use the booking form below and state that you'd like to book a picnic with your face just inches from the screen, PLEASE.
That's 40-Love!
Beaufort House Chelsea
on the Kings Road is offering a stylish and elegant setting for watching live tennis live for the next 2 weeks: Pimms, strawberries, a cocktail bar ready to serve up any drink, all matches shown live on 50 inch screens on each floor of the house, PLUS the special offer throughout the tournament is a glass of Champagne served with strawberries & cream for only only £9.90 (before 8pm only). To book call 020 7352 2828 or email info@beauforthousechelsea.com, or book via website
www.beauforthousechelsea.co.uk
And that's game, set and match! But just in case you cant get enough...
Bison & Bird
bar in Clapham is showing the Wimbledon tennis tournament everyday from 11am on 5 plasma screens throughout the bar so there is no risk of missing a single point. Watching Maria Sharapova score those aces can prove hungry work so the £5 lunch menu should take good care of that. The 5-8pm cocktail Happy Hour will make the rehydration process all the more pleasurable, unless it's a Thursdays in which case all mojitos are only £2.95! Reserve ahead by calling 020 7627 0792.
Image courtesy of Flickr user
Marc Di Luzio
.
Recent
Sport Articles