West End Ceviche Pop-Up Bar & Restaurant
By Nathalie Bonney (12 Jul 12)
Tags: west end, ceviche restaurant, peru south america, fish dish, cuisine, london restaurant, pop up bar, pop up restaurant, covent garden, leicester sqaure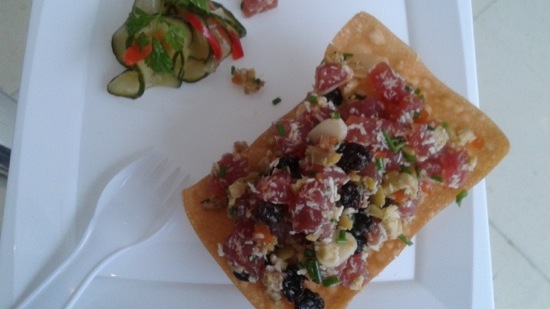 Trendy London restaurant
Asia de Cuba
in the West End is giving diners the chance to try a small selection of its acclaimed dishes in its summer pop-up Ceviche bar and restaurant from now until 25 July. Open every day from 11.20-7.30 at the Front Room of St Martin's Lane Hotel, diners can also choose from five dishes, mojitos puqu~eno (mini versions of the cocktail for £4) and a selection of deadly (and all the better for it) rums.
Ceviche - raw fish cooked in the acid of citrus juices and flavoured with herbs - is popular in South America, particularly in Peru. Growing in popularity (see also
Ceviche restaurant in Soho
and
Lima restaurant in Fitzrovia
, it's still got a long way to go to reach either sashimi's fashionable food status or smoked salmon's old-school reputation. "A lot of people still don't get ceviche," says one of the
Asia de Cuba
chefs, Georgia Dickens.
That, of course, is the point of this small, white square space: to show people what they are missing. What ceviche has over both sashimi and smoked salmon is that on top of the (admittedly slightly unnerving to the uninitiated) alternative cooking process, are the accompanying gorgeous citrus marinades.
Even if you only eat a small mouthful of ceviche, you've been privy to more flavours then a Walkers multipack. The pop-up restaurant and bar dishes are priced £5-6; a few quid cheaper each then they'd cost in
Asia de Cuba
so take advantage before the end of the month.
Like a brownie promising to do her duty and her best, I vow to try all that the pop-up bar and restaurant has to offer…. (cost in brackets is what you'd have to pay to eat the dishes in
Asia de Cuba
)
Tunapica £6 (£16.50 in the restaurant)
Steak tartare tuna-style, though this dish isn't ceviche, its popularity on
Asia de Cuba's
menu ensured its inclusion. The mix of almonds, raisins, olives and coconut served on a double layer of crispy tostadas are a few bites of perfection
Scottish Salmon and Salted Avacado Helado £5 (£8.50)
Almost cake-like in texture, the ice cream still melts in the mouth. Think prawn cocktail Latino/Hebredian style; not a leaf of limp iceberg lettuce in sight but plenty of spring onions, chili and coconut milk.
Curry Kingfish and Passionfruit £6 (£9)
Plenty of sweet passionfruit seeds and potato cubes mix in with the kingfish but the standout in this dish is the top layer of deep fried capers with coriander seeds, which bloom as they hit the oil.
Grouper, Sevlle Orange and Aji Amarillo £6 (£9.50)
Packing an extraordinary zesty punch, this fresh dish cleanses the palate a treat. A good representative of ceviche for newbies to try.
Prawn, Snapper and 'Confit' Watermelon £5 (£9.50)
The fish is served up on a piece of watermelon, mixed up with coriander leaves, red chillis and garnished with wafer thin slices of coconut. A divine mix of fresh flavours and just enough chilli to make your lips tingle.
Mexican doughnuts with butterscotch sauce £3.50
A small pot of mojito sorbet is the perfect accompaniment to these wickedly sweet doughnuts.
If you're reading this AFTER 25th July 2012, and thus missed the pop-up bar and restaurant, but still long to sample the ceviche at
Asia de Cuba
, just book yourself a table at the restaurant instead using this handy reservations calendar.
Recent
Pop-ups Articles