The A-Z of London Olympic Predictions
By Christian Rose-Day (27 Jul 12)
Tags: london 2012, olympic games, bars restaurants, pop-ups, parties, a z, guide, food drink, Karaoke, bridge, rings, roof, alfresco, party, soho, islington, kensington, cocktail, Berlusconi, usain bolt, athlete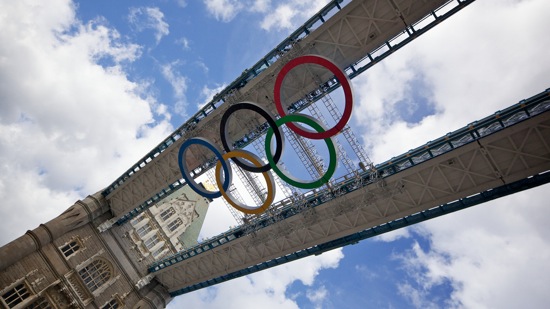 Although chubby Fluid London doesn't know much about sport, we are aware that, on Friday 27th July, 8 gazillion pairs of eyes will be watching, waiting with anticipation, for something truly spectacular, something truly British, to occur in east London. The world has arrived for the London 2012 Olympic Games and speculative predictions about gold medal contenders have already begun.
We'll leave the sporting conjecture to the supposed experts and instead offer our own Olympic predictions, based purely on matters of food, drink, and fun in London, presented in this handy A-Z format.
These are only predictions, mind. Although the information is certain, the facts might not be.
A is for All-Day Lounging
Having trained hard for the last four years and come away with not even a place in the finals, losing Olympic athletes feel they deserve a day off and head to
House of Nations at Kings Cross - an all-day lounge, bar and kitchen
- where they watch the Olympic action on the big screens and indulge in food and drink inspired by the nations taking part in the Olympics. As night falls they get caught up in the party as the lounge turns into a club.
B is for Big Screen
The weather turns sour before the Olympic opening ceremony begins so City of London office workers take shelter at
The Drift bar
in Liverpool Street and
The Parlour bar
in Canary Wharf for big screen action. Those who attempt a break for home only make it as far as Europe's largest sport screen at
The Clapham Grand
in south London.
C is for Czech
Sales of the lager Staropramen rocket through the roof in Islington as the Business Design Centre becomes Czech House, a base for all sports fans with coverage of the London Olympics, live music, art, and exhibitions.
D is for Danes
A group of rich boat owners believe the Danish Vikings are back when they spot a Viking ship harboured in St Katharine's Dock near the Tower of London. They begin hurling handfuls of Danish hot dogs and Danish herring from the stands at the
'Discover the Danish Spirit' food, drink & culture spectacle
, not realising that their supposed assailants are simply part of the performance.
E is for Escape
Bored City workers begin mysteriously disappearing during the Olympic Games, claiming that they're 'just off to the stationary cupboard', only to be found later escaping the madness at
The Retreat
, a pop-up hub for the Olympic castaways, replete with sports screens and activities.
F is for France
The French surprise everyone by dominating the medals table. Their secret weapon is soon revealed: the gourmet cuisine of "La Brasserie" hidden in the alcoves of the basement at
Club France
on Old Billingsgate Walk. Sneaky.
G is for Gastro Race
Podium places are assured for any willing competitor who completes four disciplines (eg, four meals) at
any ETM pub or restaurant in London
, thus stamping their 'Gastro Race' card, before the Olympic Games end. Winners: expect rewards.
H is for Hula Hoop
The Real Greek restaurant
in the Westfield Shopping Centre in Stratford, overlooking the Olympic Stadium, prompts pandemonium by inviting all diners to
show off their finest hula hooping skills.
I is for Italian
Silvio Berlusconi proves he misses the old days and pops his head up at Battersea's
Bunga Bunga bar
. After numerous orders of 'La Torcia Olympica' - a yard tall cocktail incorporating a real flame - he drifts away from the live HD coverage of the Olympics (with Italian subtitles) and opts for karaoke performances instead, thus winning Bunga Gold.
J is for Jetlag
Three screens, two floors,
one comprehensive guide to every sport at the Olympics
and just like that,
Jetlag bar
blasts off into orbit from Fitzrovia.
K is for Karaoke
TEAMGB wins gold in one event: karaoke. A surge of bookings at the
Lucky Voice Karaoke Bars
in Islington and Soho is found to be the cause following a special offer melt down of £20.12 for two hours of karaoke singing, no matter what your group size (using the voucher code TEAMGB if prompted).
L is for Lunch in a Secret Garden
Sick of the hustle and bustle of London, and hankering for the green landscape of their home country, the Hungarian athletes announce planned strikes on the 4th, 5th and 12th August under the pretence of protesting increased against training hours but actually just want to escape to Kensington's Roof Garden for their alfresco Secret Garden BBQ Lunches in their Tudor Garden which reminds them of their luscious home landscape.  
M is for Mount Olympus
The Olympic team for Greece makes headlines for shunning the Olympic Village accommodation in favour of
Supperclub
in Notting Hill which has been turned into the traditional Greek Olympic Stadium. Chariots, ancient games and people dressed as Greek Gods and Goddesses produce a reenactment of the first ever Olympic Games opening ceremony, thus motivating the Greek team enough to finish top of the medals table.
N is for Netherlands
The lowland-dwelling Dutch Olympic squad and supporters decide to recreate their own version of Mount Olympus by setting up shop (and cafes, restaurants, big screens, and athlete facilities) on top of London's 'mountain', in Alexandra Palace. The Holland Heineken House thus becomes the official national house of the Netherlands, as well as a nifty alliteration.
O is for Olympic Feast
The Olympic feast menu of 3 course meal with 2 sides and a glass of Prosecco for only £24.95 at
Imli Indian restaurant in Soho
. Book this offer by using the reservations calendar below.
P is for Pop-ups
Restauranteurs and pub landlords emigrate en masse to faraway lands after coming to terms with the fact that they can't compete with the influx of exciting pop up bars and restaurants in London. Culprits include
The Book Club alfresco pop-up, Basecamp
in Shoreditch,
London Picnic Club @ The Skyroom
near London Bridge,
Jimmy's Supper Club
in Stratford,
The Global Feast
at Stratford's Old Town Hall,
The National Theatre Propstore Café Bar
on the South Bank,
The Floating Cocktail Lounge
, and
Feast
at Guy's Hospital.
Q is for Queuing
Those awfully nice chaps at
Geronimo Inns
convert everyone at the Olympic Games into British citizens with their rather splendid guide to Britain's greatest sport: queuing. Jolly nice.
R is for Ring of Fire
World's greatest coincidence uncovered as
Anise cocktail bar
in the City of London realises its current multi-coloured food dishes and flaming torch cocktail menus include every colour of the Olympic rings; including the blue shrikhand cheesecake with berries and Ocean Blue cocktail, or the black port baby back ribs and Black Temple cocktail.
S is for Shaker
Losing Olympic athletes are found hiding their heads in shame in the basement of
Shaker & Company
in the private hire pop-up sports bar. The lure of Nintendo, Wii, karaoke, table football, iPod docking, cinema screen, fully stocked private beer fridge, and special offers like the 'burger & beer bucket' (for £25) appear to have been too much for the athletes to resist.
T is for 24-Hour Drinking & Dining
Following a full refurbishment, Chelsea's legendary
Vingt-Quatre
café and diner re-opens to claim its standalone title as the only venue in London licensed to serve food and alcohol around the clock, 24-hours a day. Sprinters with chicken hankerings line up around the block late into the night.
U is for Urinals
The Exhibit
bar in Balham is surrounded by the media as news of the 100ml Dash breaks. The new
'hands free', pee-controlled video game
installed in the men's urinals provokes a rush of competitive blokes to take up the digital action challenge displayed on a mounted video screen above them.
V is for Volympics
Burlesque and cabaret legends such as Abigail Collins, Dolly Rose, Madame Galina and Dave the Bear provide a thrilling exhibition at The Volympics for spectators, who look on whilst enjoying a decadent 3-course dinner and potent cocktails at
Volupté
.
W is for West End
The West End reaches unprecedented levels of campness when the talented all-singing, all-dancing bar staff at
Archer Street
showcase the best loved musicals, such as Priscilla Queen of The Desert, Jersey Boys and Mamma Mia. Olympic links are provided in the form of special cocktails like the Bulls-Eye, the Flaming Arrow and the Glistening Gold.
X is for Xotic Meat
All animals flee London when reports claim that 'The Games' menu at
Shaka Zulu restaurant
in Camden reaches for even more exotic meats such as Springbok, Crocodile and Wildebeest. Humans are advised to book ahead to avoid carnivorous disappointment.
Y is for Yard
Usain Bolt is spotted celebrating his gold medal even before he has won it at
The Puma Yard
, the pop-up festival celebrating Jamaica's 50 Years of Independence provides plenty of distraction for the famous athlete with giant screens, authentic Jamaican cuisine, live music, DJs, and rum until 12th August.
Z is for Zoo
Team GB make a last minute change to the aquatic squad when they replace Tom Daley for a London Zoo penguin. Having had a diving board installed in their enclosure for the last few months, the penguins are now Great Britain's best chance at winning Gold in the synchronised 10m platform final. So that visitors aren't disappointed, Tom takes the penguins place at the London Zoo but only manages a few belly-flops for revellers.
Image courtesy of Flickr user
aurélien.
.
Recent
Sport Articles