Sex In London: Bars, Clubs & Events For Flirting, Flashing and Fornicating
By Faye Armstrong (01 May 12)
Tags: Sex, sex shop, London sex shop, fetish, latex, leather, dildo, burlesque, nipples, nipple tassels, orgasm, sexual pleasure, sex in London, sex club, sex bar, erotic, Sh! Erotic Emporium, Café de Paris, West End, nipple clamps, strap on, sex toys, vibrator, podium dancers, Anne Summers, sex as entertainment, Afternoon Tease, bondage, whip, leather, Torture Garden, fetish club, sex fantasy, Coronet Theatre, Elephant and Castle, fashion, cabaret, Volupte, Afternoon Tea, City of London, Club Aquariu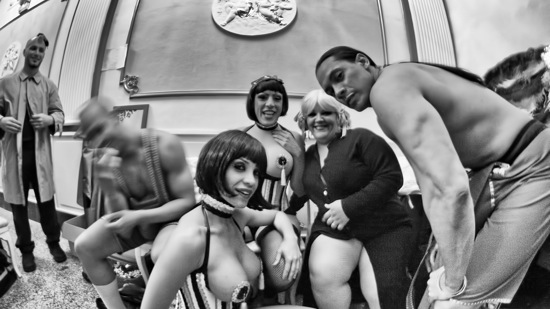 The UK's oldest running sex shop for women,
Sh! Women's Erotic Emporium
, recently turned 20 and to celebrate all those years of helping women reach their sexual potential (read: orgasm), they held a little soiree at Café de Paris in London's West End.
There were the usual birthday balloons and drinks, but instead of cocktail sausages and Skips crisps, trays were filled with stimulant lubricant and nipple clamps. With its suggestive bedroom area, go-go girls and frequent burlesque nights, Café de Paris was the perfect place for Sh! to celebrate 20 years of sexual liberation for women, and the perfect place for their dildo-equipped dancers to spend 30 minutes gyrating on podiums.
This got me thinking. What was once considered London's sordid underbelly, now sits so easily with us; both in thought and in actuality. Starbuck's rubs shoulders with Anne Summers, and we enjoy both equally, in public too.Today, we Londoners are the most liberal and open-minded of sorts and sex is no longer a topic of hushed conversation; it's something to be enjoyed both in the personal sense and as a form of entertainment.
Whether you're looking to explore something new by yourself, make things with your partner a little more interesting, spend an evening watching burlesque with your girlfriends, or even take your mum to a naughty Afternoon Tease, London has it all and there's no need for a full length mac coat, dark glasses and an embarrassed expression any longer.
Here are the best upcoming events London has to offer in terms of latex liberation:
1) Torture Garden.
You may not have been but there's no chance you haven't ever heard of this legendary fetish club. Monthly events take place at varying locations throughout London where the bold, the brave, and the bare indulge in debauchery beyond imagination and exercise their filthiest fantasies. The next event is this weekend when Torture Garden will celebrate its 20th birthday over a 3 night extravaganza of latex, piercings and rubber, starting on Friday 4th May. We recommend the Birthday Ball on Saturday night, taking place at the
Coronet Theatre
in Elephant & Castle. Fashion, Fire and Cabaret performances will only distract from the 7 fully themed fantasy environments for so long…
2) Volupte.
Burlesque doesn't get much better than doing it the supper club way in the City of London. You can enjoy your dinner with a side of naughty burlesque, cabaret and even circus performances. Saturday afternoon plays host to the weekly 'Afternoon Tease', matching the sophistication of afternoon tea with the tastiness of burlesque and Gateaux Vivant. Book your table for this Saturday 5th May.
src="https://secure.livebookings.com/LBDirect/Assets/Scripts/LBDirectDeploy.js">
3) Club Aquarium.
Not quite the same degree of outrageousness as Torture Garden, Old Street's Club Aquarium still offers heterosexual hedonists the chance to strip down to swimsuits. A swimming pool and jacuzzi ensures most party goers end up very wet. Check out the Thursday Night Dip this Thursday 3rd May from 11pm – 6am when DJs will be playing favourites from the 80s and the usual house, techno and electro grooves. Don't forget your swimwear but leave your modesty at home.
4) Club R.U.B at The White Swan.
Every third Saturday of the month, Club R.U.B runs out of Farringdon's White Swan. Strictly fetish (you won't be allowed in if your attire isn't appropriately latex or doesn't fit into the 'theme' of the night), Club R.U.B bills itself as London's friendliest Fetish Club where all freaks and fiends are welcomed to make use of the dungeon, grope corridor, Singapore sling and Harem Den. Provocative but friendly, grab your coloured wig and white PVC alien suit and check out the Space and Aliens event on the 19th May.
5) Wyld Bar at the W Hotel.
Even glamorous West End hotels are getting aboard the love train, as they realise the demand for all things saucy is high in our filthy-minded capital. Wyld Wednesday's in the Wyld Bar promise to change weekly night raves and warn you to be prepared for the unexpected as weird and wonderful happenings unfold. When it all gets too much, retire to your hotel room and raid the mini bar. Among miniature sized spirits you'll find a Tenga Egg sex toy for him and a mini vibrator for her. Tire yourself out before you catch some zzz's.
Image courtesy of Flickr user
gaudiramone
(Share Alike)
Recent
Cabaret, Burlesque & Strip Clubs Articles