If The Jeffery-West Shoe Fits, Wear It
By Faye Armstrong (15 Jun 12)
Tags: Jeffery West, Mark Jeffery, Guy West, shoes, boots, men's shoes, men's footwear, men's boots, British, British heritage, quality, style, leather shoes, shoe designers, Northamptonshire, shoe pedigree, innovation, experience, edgy style, overt elegance, flamboyant, fun, imagination, statement pieces, detail, toe-cap Oxford, brogue, Crockett and Jones, Trickers, Church's, classic English shoe, manufacturing history, twist, signature cleft heel and red leather lining, Queen's Diamond Jubilee, Wimbl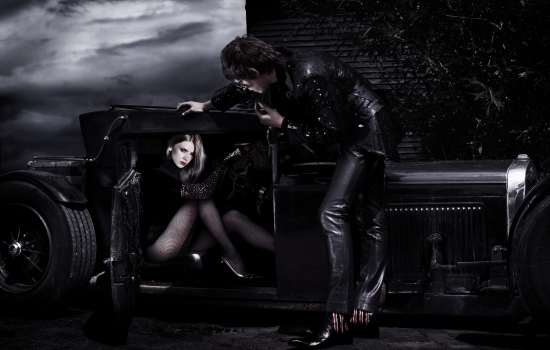 There's a lot of British pride being felt this year. The Queen's Diamond Jubilee, the London 2012 Games, and all manner of other British-bred sports, events and celebrations. Men, if you're looking to fly the flag for Britain this summer then you'll need to know what's happening, where and when, and – in the interest of 'putting your best foot forward' – just what shoes to wear.
Women have infinite choice when it comes to shoes; for most, the sheer volume results in a dangerous habit with weekly binges at Kurt Geiger in attempt to satisfy a ferocious hunger that undoubtedly remains starved. For men, the choice is more limited with one of two options - the traditional Oxford brogue or the relaxed loafer. If a man decides to 'go wild' and buy both that's generally it for their shoe-based purchasing until either pair falls apart.
That's where British men's shoe brand,
Jeffery-West
, are welcomed as a breath of Febreze shoe freshener air. Whilst they are steeped in shoe making heritage - their head office is in Northampton, the historical centre of British shoemaking, which is where all
Jeffery-West
shoes are made and where Jeffery's father ran his own shoe-making factory –
Jeffery-West
play with convention, offering traditional and timeless styles but with a contemporary edge. The small idiosyncrasies in their designs make wearing their shoes and boots an exciting experience and exquisite pleasure, and means a male shoe addict epidemic is unquestionably on the horizon.
So gents, all that's left to do is choose a pair (or four) and then settle on somewhere to show them off! We've made a few suggestions below on what
Jeffery-West
shoe to wear where this summer.
Wimbledon, an annual British summer event (25th June – 8th July), is home to tennis, strawberries and cream, and many, many dapper looking men. All of whom will 'rally' to see your pair of
Bilbao tri-colour loafers
. While Federer and Murray battle it out, they'll be no competition off court for the best-heeled man.
22nd July will see the infamous
Chinawhite
team up with Guards Polo Club for the spectator event of the season: the Coronation Cup. For such a special event you'll need a special pair of shoes. Yes, as always
Jeffery-West
have just the thing in the form of
Escobar.
Wyld Bar
in Leicester Square is a favourite of the rich, beautiful and famous, with Kate Moss and Primal Scream turning up for the opening. The bar is inspired by London's rock n roll heritage and is the perfect place to wear a pair of
Jeffery-West
boots as the two designers are similarly influenced by their love of Roxy Music and Bowie. Snatch up the
Marriot Boot
– named after rocker Steve Mariott – for the desired rocker effect as you spend balmy summer evenings in style rubbing shoulders with the famous.
Summer is hot (supposedly) and so some hot activities are a must. A cheeky visit to a Gentlemen's Club such as
Whites
in the City or an evening at a tantalising Friday night La Reve Burlesque show at
Café de Paris
, will make you feel hot under the collar even if the unpredictable British summer doesn't warm you up. A devilish night deserves some devilish shoes, the
Rochester 'Reptile' Devil Tail Gibson
will work just fine or the
Brilleaux Wing Gibson
in a very naughty colour would go down a treat.
When the city finally does heat up, the only place to go to escape the heat and the hustle and bustle is up high.
The Roof Gardens
in Kensington offer roof top evenings surround by Spanish and English gardens and even a few flamingos. Wear a pair of summary
Giulio Moccasin's
whilst feasting on BBQ delights every Friday and Saturday evening throughout the summer.
Islington has two faces; one of composed haughtiness and the other of manic wildness.
The Hope & Anchor
fits into the latter category with its rock n roll history and you could have once watched Madness for only £3. Still all about the music, you can watch live bands every day of the week making summer 2012 very noisy indeed. The
Limited Edition Hannibal Norton Biker Boot
should withstand all the leg stomping and beer spilling sure to unfold on a visit.
Recent
Promotions Articles