Free Spanish Festival On London's Southbank
By Christian Rose-Day (11 Jul 12)
Tags: spanish cuisine, london festival, spain food, london restaurant, southbank, tower bridge, tower london, city hall, rioja wine, boris johnson, city hall, wine food, wine tasting, jose pizarro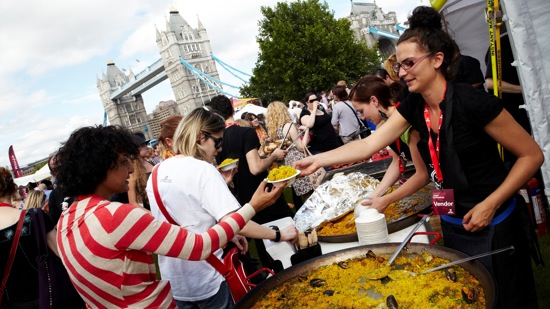 Celebrating its 5th year on Saturday 14th and Sunday 15th July, the Rioja Tapas Fantastica Spanish food and wine festival will be showcasing products from the region over 40 different stalls (Saturday until 8pm, Sunday until 6pm).
The Potters Field Park - you know, the bit of grass next to Boris Johnson's office at City Hall, right next to Tower Bridge and opposite the Tower of London - will be the location for this free festival.
There will be live cookery demonstrations from Spanish chef José Pizarro - of
José Tapas & Sherry Bar
and
Pizarro restaurant
- as well as wine tasting workshops with experts Susy Atkins and Olly Smith, plus loads of tapas, cheeses and other Spanish cuisine to sample.
As you enter the festival, don't forget to pick up a wine glass and some tokens so you can sample the various Rioja wines on offer.
Recent
One-Off Events Articles