Afternoon Tea: A Central London Privilege?
By Christian Rose-Day (12 Jun 12)
Tags: afternoon tea, Wolseley, london tea, british tea, scones tea, scones cream, traditional tea, central london, london hotels, london restaurants, canary wharf, richmond park, billy elliot, wicked, apollo victoria, finger sandwiches, bloomsbury, mayfair, belgravia, knightsbridge, covent garden, west end, st james, piccadilly, champagne oyster card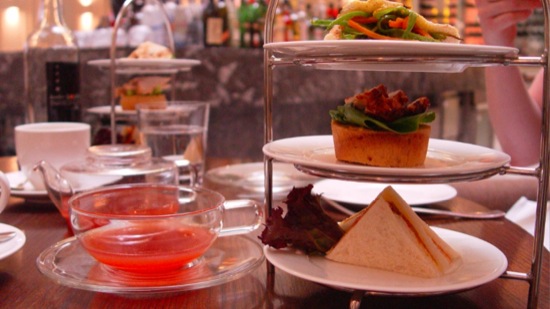 Mayfair has nine; St James boasts three; Kensington claims a couple; whilst Knightsbridge, Belgravia, Fitzrovia, Marylebone, Bloomsbury, Covent Garden, and Victoria all carry one a piece, and all well inside Zone 1. These are the London suburbs that featured when the
Top London Afternoon Tea Awards were presented earlier this year at the British Tea Guild Council's Awards of Excellence
. The entire field of 22 Afternoon Teas to feature at the awards, including the best Afternoon Tea at
The Athenaeum
on Piccadilly, are located in central London, and all but one reside in an luxury London hotel. The one that doesn't is
The Wolseley
.
From this we can deduce that The British Tea Guild Council hardly ever ventures out of Zone 1 and usually prefers to order room service instead of joining the hoi polloi on London's public transport to return to their place of rest each evening.
Fluid London, however, has a travelcard that stretches all the way out to Zone 4, with a decent amount of pay-as-you-go credit in reserve just in case the job of discovering hidden gem bars and restaurants across London requires a journey into those unknown corners of Oyster. It is for this reason that we put it to the British Tea Guild Council that not ALL the best Afternoon Teas in London are within a rickshaw ride of the West End. Here are 5 of the best:
1901 restaurant
. The restaurant has been celebrating British Queens, past and present, since the beginning of the year with month-long themed Afternoon Teas. Our Queen for the day was Queen Victoria, the Empress of India, which meant that the selection of sandwiches included chicken tikka massala, curry salmon with lettuce and raisins, and curry vegetables in naam bread. The flavours were more delicate than one would expect from a customary curry, and, being that our Afternoon Tea (pictured above) was different from a traditional Afternoon Tea, we felt that the occasion was enhanced.
The accompanying Empress of India cocktail of gin, Darjeeling tea, strawberry syrup, cacao, and coffee liquor - served in a glass teapot - was, quite frankly, a refreshingly summer drink that could easily replace Pimm's at any upcoming Sunday afternoon BBQ. And the coconut and milk chocolate pastries to follow; well, the words "posh Bounty bar" do not do it justice, even though it was delightfully just that.
1901 restaurant
itself is a lovely, bright, grand room for Afternoon Tea replete with a huge stained glass dome, walk around bar, glass-enclosed wine collection, and cheese cellar. We encourage Afternoon Tea lovers to book using the reservations calendar below (by choosing Afternoon Tea from the drop down options) and on the day ask the staff if they can could possibly show you the hidden Masonic temple that was uncovered accidentally only a few years ago. We did take some photos ourselves but we'd rather you discover it for yourself.
Top London Afternoon Tea Awards at the British Tea Guild Council's Awards of Excellence
further up the page.
The Goring
in Victoria was the only Afternoon Tea of that bunch not part of the central London enclave. Award winning; yes. Walking distance from Oxford Circus; only if you've got the legs. The Afternoon Tea at
The Goring
would suit royalists who are circumnavigating the walls of Buckingham Palace, musical fans who are off to see Wicked at the Apollo Victoria or Billy Elliot at the Victoria Palace, or in fact anyone who lives south of London and needs an easy getaway from Victoria Station.
Served daily from 3.30pm on the sunny terrace, overlooking the private gardens, the Goring Afternoon Tea is currently £37.50, or £47.50 for the Bollinger Champagne version. Use the calendar below to book your Afternoon Tea at
The Goring
.
Pembrokes at Richmond Hill Hotel
we see no reason not to flex that Oyster card and head out to this original Georgian house in south west London; especially as
the current Traditional Afternoon Tea offer
(booked only by using the reservations calendar below) is £18. A selection of thin sandwiches, fresh scones with strawberry jam and Devonshire clotted cream, plus the usual Afternoons Tea gubbins awaits for all inquisitive Afternoon Tea seekers.
Davy's
in Canary Wharf is a bar. You might work in the area, you might be visiting the Museum of London Docklands, you might be checking out the big screen offerings and live performances in Canada Square, or you might simply be riding the front seat of the DLR as though you're the driver (been there, done that).
The Traditional Afternoon Tea, served from 2-5pm Monday to Friday, includes Fair-trade and organic Clipper Teas, freshly cut finger sandwiches, home-made scones, chocolate brownies and shortbread, all for only £14.95 (or £22.95 if upgrading to the Champagne remix). There's also Afternoon Tea with a selection of artisan cheeses, accompanied by tawny port and Black Muscat available.
Click here to book
or simply use the booking form below.
To discover more Afternoon Teas in London, click this link
.
Recent
Afternoon Tea Articles